We're delighted to officially announce that we were recently awarded funding from the European Regional Development Fund under its Business Innovation Programme which is managed by Birmingham City Council.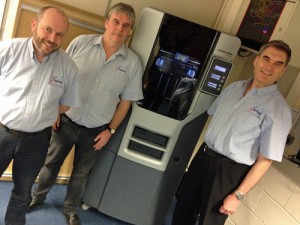 The Business Innovation Programme offers match-funded grants of up to £30,000 and aims to support economic success in manufacturing across the West Midlands. The funding supports new innovative manufacturing processes, including prototyping and products that are 'close to market'.
After identifying the restriction and level of risk in outsourcing the majority of our bespoke design and manufacturing work, we applied for funding to invest in a 3D printer to manufacture finished parts and end products in-house and achieve faster product development.
The 3D printer allows for greater speed and versatility over conventional CNC machining. For small quantities the parts can be designed and produced within a working day and we can now produce more products and parts in-house, as the design can be simpler due to not being constrained by the capabilities of traditional CNC machining. As an example, one of our key manufactured products is a bespoke ruggedised connector.
Traditionally, these have been machined from nylon and had a lead-time of two to three weeks. We can now produce one-offs in-house within 24 hours, saving time and money for our customers.
Additionally, we can quickly take a design straight from our 3D Computer Aided Design software and print it. This also allows for an extremely quick turnaround, far quicker than using an external supplier, giving us a significant competitive edge as our customers know that we can produce a working solution almost immediately.
We're thrilled to have been awarded this funding as it is a vital component in our ongoing growth and concerted efforts to remain at the forefront of cutting edge technology for the direct benefit of our customers.
We purchased a Stratasys Fortus 250mc 3D printer for £31,550 with £16,692 being funded by EEDF. We have also purchased 3D CAD software and recruited 2 qualified Design Engineers to effectively utilise the software and 3D printer