JUST-IN-SEQUENCE
MANUFACTURING SYSTEM
Just-in-Sequence (JIS) manufacturing is a key strength of Sorion.

Our powerful error-proofing, traceability and reporting applications provide end-to-end manufacturing control to ensure that all parts are supplied to the OEM at the right time and in the right sequence.
CAPABILITIES
Sorion's Sextans process control software is known throughout the automotive industry for its versatility. Sextans supports all processes, from kitting to assembly control, rework and end of line test.
As with all Sorion products, the system is configurable and can be tailored to suit your application.
FEATURES
End-to-end product traceability
Scalable and flexible
24/7 support contract
Core functionality
LOGISTICS AND PICK TO LIGHT / PUT TO LIGHT
Pick to Light systems improve efficiency and eliminate errors within your logistics and production processes. Key areas of application include:
Picking process

Assembly processes

Distribution process
---
ASSEMBLY CONTROL
Sorion's Sextans process control system helps to improve production efficiency through a system of visual and intuitive work, ensuring that the appropriate processes are performed in the correct sequence on the right parts.
Using Sextans you can detect errors as they occur in production, before they become bigger issues down the line.
---
AUTONOMOUS MOBILE ROBOT MANAGEMENT
Fleetware enables the integration of Autonomous Mobile Robots into the production environment
Fleetware links the operation of AMRs with the overall workflow, processes and environmental systems of a facility, including pick to light systems, manual and automated assembly stations, test systems.
---
TOOL AND MACHINE INTEGRATION
Seamless integration with third party equipment, machines and tools.
---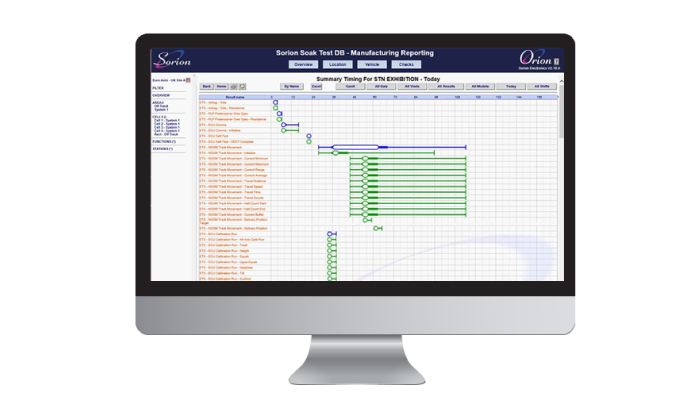 TRACEABILITY
The Orion Traceability Database provides a complete history of all processes on product assemblies. This helps to meet regulatory requirements and provide documented evidence that the products were manufactured to exact specification.
Orion also provides a flexible set of analysis tools from quick simple visual charts to more complex analysis.
---
OEE AND AVAILABILITY MONITORING
With Orion EMA (Equipment Monitoring and Availability) you have the right tool to integrate centralised equipment monitoring, availability and event tracking. The application allows andon display and web based reporting of production line performance, including:
Current Status
Equipment Availability & OEE (Overall Equipment Effectiveness)
Downtime Cause Analysis
Example Projects
Contact us today
Leave your details below and we will get back to you