MANUFACTURING TRACEABILITY & QUALITY MANAGEMENT
The rise of Industry 4.0 has heightened expectations for traceability in manufacturing.
Manufacturers are expected to document every step in a process chain to meet regulatory requirements and provide documented evidence that their products were manufactured to exact specification.

Sorion's traceability systems help manufacturers improve product quality by avoiding errors during the manufacturing process.
GOALS OF A TRACEABILITY PROGRAM
Manufacturers utilise traceability to make improvements in the following areas:
System components
ERROR PROOFING
Use our Sextans end of line test and process control system to improve quality by ensuring that the appropriate processes are performed in the correct sequence on the right parts.
Using Sextans you can detect errors as they occur in production, before they become bigger issues down the line.
---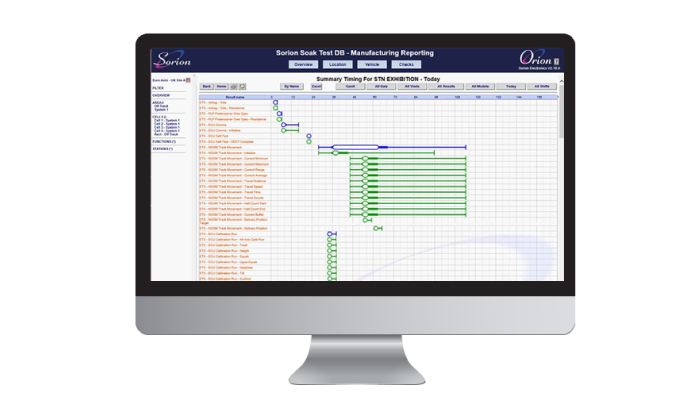 PROCESS DATA COLLECTION & PART HISTORY
Store and manage data from any process and test station in the Orion web based data management and analytics application.
The type of information recorded will vary, but some of the more commonly collected information includes: site/track, station, time & date, shift, build no, part serial no, tooling data, test system, measured values, visual inspection.
Orion provides a flexible set of analysis tools from quick simple visual charts to more complex analysis.
---
OEE AND AVAILABILITY MONITORING
With Orion EMA (Equipment Monitoring and Availability) you have the right tool to integrate centralised equipment monitoring, availability and event tracking. The application allows andon display and web based reporting of production line performance, including:
Current Status
Equipment Availability & OEE (Overall Equipment Effectiveness)
Downtime Cause Analysis
Example Projects
How can we help you?
If you would like a quote for your electrical test project, please give as much information as you can and we will get back to you.
Complete the contact form or call our team on 0121 454 8966.